Now that school has started, my summer hobby is getting put to the side.
My DVR is busting at the seams, I'm four hours behind on Bach in Paradise, I haven't yet posted about the Game of Thrones finale, and I erased two full weeks of Big Brother because it was too much to even start to wrap my head around (see more on that here!).
The amount of topics to cover on MHH is overwhelming, so I figured I'd do short snippets of all my current favs, all my current celeb thoughts, but mostly, all that I still make time for (regardless how busy my real world job makes me).
The Morning Breath:
I've written about this show/podcast before. Claudia and Jackie Oshry are sisters living in New York City. Each morning (when they aren't hungover or on vacation) they go live on Instagram to bring you different celeb gossip. Seriously, they watch every. single. show I do, plus many I don't. They make me laugh when I'm prepping for a long day on the drive to work, or laugh when I'm stressed on the drive home. I can't say enough how much these two are my spirit animals, my favorite people, and a staple of my every day.
Stories I'd Tell in Bars by Jen Lancaster
I'm supes surprised I haven't discussed Jen Lancaster before; she's one of my favorite authors. For a list of her published work, click here! Currently, I'm reading her newest title, Stories I'd Tell in Bars. And that's exactly what it is: funny stories you can't HELP but laugh out loud to. I just finished the chapter about the Lilly Pulitzer/Target mess that occurred a few years back. (If you don't know what I'm referring to, why are you even reading my blog?) Anyway, (now that I think about, keep reading my blog please — I'll take any support I can; loves ya!) just go find a book by Jen Lancaster, any book. You don't need ANY special background or prior reading to pick up one of her books and enjoy.
Luann sits down with Andy:
I just got caught up on the #RHONY reunion a few days ago (hence no post) and missed the Lu special last night. However, I couldn't wait much longer and it was the first thing I did once I got home today. BAH! So many thoughts, from the dramatic entrance by Andy to the fact that Luann absolutely doesn't think Tom cheated on her.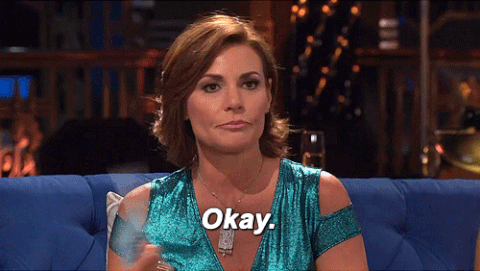 I couldn't understand how, if he didn't cheat, what was cause for divorce? He wanted to live a bachelor life and go out and make out with Missy, but he didn't cheat on her during the marriage? I don't believe it, and all around feel bad for Lu. However, I did enjoy watching the camaraderie between the women as they relived the Mexico trip. I think Luann has genuine friendships and support with the ladies and will be juuuuuuust fine in the end. Remember Luann, "If you fall, make it part of the dance!"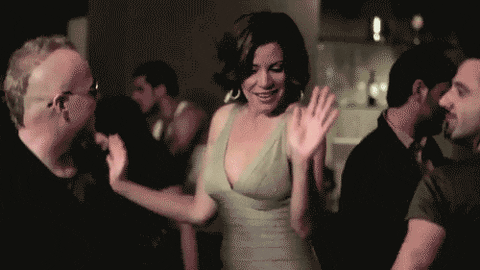 The new Bachelor is announced:
I'm not ashamed to admit I've only been a part of Bachelor Nation for a few years. In fact, Jojo was my first season. I'm slowly learning who is who in the Bachelor Family, but I am one (of many I'm sure) who doesn't know Arie Luyendyk Jr. Of course I will still watch.
Claudia and Jackie (see above) don't hate this pick, plus my bach bestie text me today and said she thinks I'll like this Arie fella just fine. I'm pretty disappointed it wasn't Peter because I thought I'd be able to trick my husband into watching with me (he was rooting for Peter after I forced him to watch one hour of Rachel's season), but that doesn't mean I won't stop trying to get him to watch.
Dancing with the Stars — Cast Announced:
Oh this? Yeah I don't care. Let's move on.
RHOC and RHOD:
I didn't get to watch either Orange County or Dallas on Monday, and have yet to blog about either this season (I take that back; I did write about The Quiet Woman), however, I'm not jumping at the bit to discuss either show. (Either either either! Marsha Marsha Marsha!)
I agree with all the Housewife Twitter accounts I follow that the Vicki/Shannon/Tamra feud is boring. Megan and Peggy are boring, Lydia is just there to stir the pot & look skinny, and Kelly is Kelly. As far as Dallas is concerned, I think it's more entertaining, but not by much. I was pretty sad to see Brandi and Stephanie not even speaking (they were my favorite Dallas duo season 1) but I thought their make up was a bit premature. We can bet it'll cause drama regarding Leeanne, which I'll enjoy watching (ALOT more than I enjoy watching these ladies & their horrible plastic surgery faces).
Big Brother:
As I said earlier, I skipped two full weeks of Big Brother (read why right here), but I finally got back on the bandwagon and saw Christmas win HoH, Paul win Veto, and Jason start to worry. The next episode (tonight) will be double eviction (fingers crossed for a blindside!) which I'll be sure to catch up on this weekend (unfortunately it's football night at my house tonight) and I'll either tweet or blog my feelings.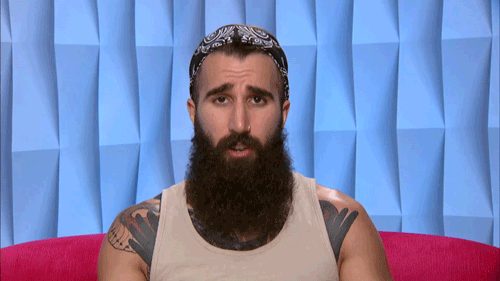 The Sinner:
Stars Jessica Biel and is a mind f***. Just go watch. And yes, that's blood on her.
As always, I appreciate all and any support, follows, comments, email subscribers, love, and good thoughts. Wishing all my readers a safe weekend!