I'm a little terrified to write this (Taylor fans please don't come for me), but here we go!
If I hadn't played Taylor Swift all day in my classroom during passing period and work time on Friday, I'm not sure I'd be here to discuss positive thoughts about T. Swizzle. Because …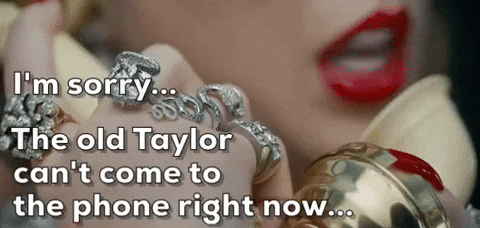 … and when the old Taylor died, so too did my intense love for her. Bear with me because if I don't discuss all the Taylor baggage I've been carrying, then I won't be able to get to everything wonderful that is "ME!."
During the 1989 era, I was really loving Taylor. Was this before or after Calvin?? Because bleached blonde, rocking at Coachella, ig's of them on vacation and at award shows was truly the best time of my Taylor fandom. (Even though I've been a part of the fandom since those cute curls and the sparkly guitar she rocked …). 
Despite the Calvin breakup, I still held her in the highest degree, regardless of the thirst that was her, the girl squad, and the relationship with Tom Hiddleston.
But then came the Kim and Kanye scandal and I guess I didn't realize how much it bothered me. I was really upset at how Taylor just disappeared from social media and all our lives (so it seemed). See, here is where the hardcore Taylor fans will say she deserved her privacy (Britney Spears anyone?), but at the same time, no one had died; she had made a mistake, got caught, needed to own it and move on. Maybe do a 20/20 interview? I don't know …
Boy, did she move on. While I absolutely loveddddddddd Reputation (it truly is one of my favorite albums of hers), I found myself starting to get annoyed with the theatrics of it all: the snake, the old Taylor dying, her reminding us that we can't even have nice things, and constantly being told how betrayed she felt by the world. Then came the tour and it just all seemed so much. To me it felt like she got her feelings hurt by Kim and Kanye, went to hide under her bed covers, only to return as the "victor" (in her eyes) over all these mean people who hurt her. I've been so annoyed by it all, I have yet to watch her Netflix special  … and I love me some concert specials!!!
Because my feelings for Tay Tay stood in limbo, once her posts about "4/26, 4/26, 4/26" started to surface, it became too much to handle. What was with all the vague Instagram posts? I'm about to have a baby; I don't have time to investigate Taylor Swift's clues. On top of it, girl you're almost 30 years old like me, stop with the gimmicks and the games; just release the darn music!
That being said …
Taylor Swift is extremely smart when it come to publicity and marketing herself because here I am rambling on and on about it all. Plus, she wouldn't be one of the biggest stars if she wasn't calculated in what she revealed, posted, whatever. And, the new song? "Me?" It's a bop!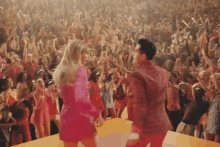 I'm not going to go too much into details regarding my thoughts on the video. My favorite part was the snake turning into butterflies because that tells me perhaps Taylor, my girl, is truly happy again and is becoming her old self. I also loved all the colors! Like, I want to live in a world that is filtered the way the video was.
Many thought the video was cheesy or dreamy and maybe it was at times, but it worked for me.
The song …
The actual song itself is great too! I mean, who doesn't love a feel good song? I absolutely  LOVED Brendon Urie being on it (sorry to admit, I don't think I'd like it was much if he wasn't on it). I loved that she's not apologizing for who she is, while at the same time bragging about how great she is too! Perfect message!
I think the old Taylor is back. Maaaaybe not in a 180 degree turn from Snake-lor (snaky Taylor), but at least more rainbows and butterflies and COLOR which is who she truly is when you go back and listen to many of her previous albums. Happy Taylor makes me happy and I can finally admit how sorry I was to ever doubt her or question her.
But, as a true stan, isn't that okay to do?