First, let me apologize that this is coming so late in the week when the final part of the reunion was last Sunday. But you know what else airs on Sundays? Game of Freaking Thrones, so that's been consuming the blog lately! You can catch up if you need to …
"We're All Going to Die, But At Least We Die Together" GOT Recap 8×2
"You're the True King" GOT 8×1
Game of Thrones is Back!! … almost
However, we are here to discuss the ladies of Atlanta and mainly the Season 11 reunion. I first thought I'd recap it (but you all watched). Then I thought I'd just share some overall thoughts (but my thoughts were a jumbled mess). Instead I decided to give my rose and thorn of this reunion; I'm curious to see if you all agree!
Reunion Rose:

Porsha Williams
First, she was best dressed! Her baby bump brought the entire look together, but those earrings and her hair?? Flaw- less! Two, RHOA has officially become Porsha's show. If you disagree, how? Take out this season entirely (because she's a new person this season), and in the past it's always been Porsha to bring the funny and the fighting.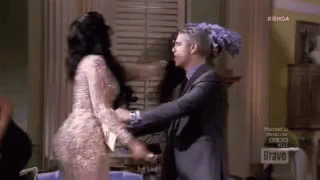 While the Kenya hair pull is iconic, she's no longer that woman. This season Porsha was nothing, if not the voice of reason, especially at the reunion. Maybe it was impending motherhood? Maybe it was her sobriety? Maybe it's her new man and the fact that she's now truly happy? Whatever it is, I thought she was on the right side of every single argument. I loved how she squashed her beef with Kandi and also stood up to Nene, but did so in a very mature way. "That shit was hurtful," she said regarding how the women were really trying to be there for Nene this season, yet Nene completely wrote them off as friends.
I'm telling you, Porsha is going to be soon become to face of the Atlanta Housewives!
Reunion Thorn: Nene Leakes
I'm going to try very hard to not turn this into one big rant against Nene, but it's going to be tough.
"I'm the real G!"
"Kandi's not important"
And something else about how hard some women have to work to keep their peaches. At this point, Nene has reached OG crazy level where she thinks the entire show 100% revolves around her and wouldn't be able to continue without her. LVP has shown this attitude for years, by never apologizing or never admitting when she's wrong. Vicki proves this each season when she's terrible to the new girls and always refers to RHOC as "her show." Teresa was over the top about it on the last Jersey reunion, completely shunning Melissa for not taking her side and stating that any woman no longer on the show was because of her, meaning Teresa had a say in their departures.
Being an original cast member does not maketh the entire show ladies. Nene had SUCH a smug look on her face the whole reunion that at one point even Andy asked her, "What's wrong?" in an extremely fed up tone.
I get she's under an unimaginable amount of pressure because of her husband's cancer, plus she feels very betrayed by her close friends (or friend* … Cynthia), buuuuut none of that gives her the right to think she's better than anyone else on the show or to sit smugly on the couch for the entire three part, all day, reunion.
Closing Thoughts …
If you think I chose these two ladies as my rose and thorn because they got the seats next to Andy, you're wrong. But, obviously I'm completely in tune with Bravo.
I was very proud of Cynthia for standing her ground against Nene because she rarely does stand up for herself. It was so dumb that the last five minutes of the entire season was a majority of the basis for the reunion, but whateverrrrrrrrrrrrrrr. In fact, out in the Twittersville, rumor is Kenya is going to come back, which means Cynthia has an ally now going into next season and going up against Nene. #TeamKenthia all the way!
And finally, the shady boot definitely needs to go to Mr. Andy Cohen. I wish I would have written down some of the questions he asked as I watched, but it seemed like if one housewife was discussing an issue with another housewife, he immediately went to that person to get their thoughts, but he always worded it to sound … not the most genuine! Buuuut, according to him …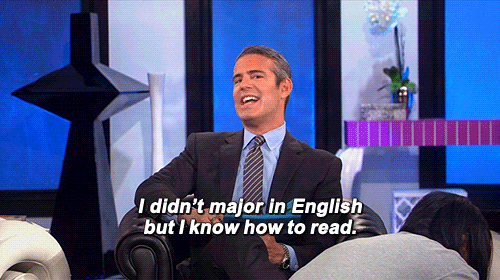 … and he gets better and better at it each reunion!