"Lies A. Minnelli!!"
Best quote of the night! Or it possibly could have been Kelly calling Vicki a fart ("silent but deadly")! Overall, part one of the OC Reunion was basically just a Kelly vs. Vicki match, which was super surprising to me because I thought they were all good. Guess not.
Researching their feud a little more after watching last night, Kelly said that she thought the two of them left the reunion on good terms, but watching the promo brought back the emotions for Kelly in regards to Vicki's hurtful words and accusations. Honestly, I had no idea how serious it was between the two of them, so much so, that Kelly said she wouldn't return next season unless Vicki was off the show.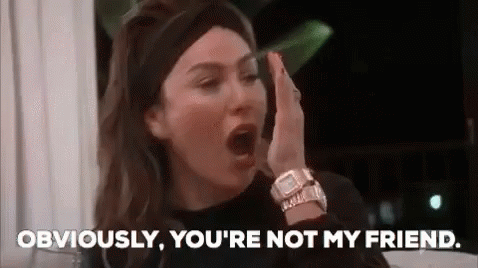 At first, I thought their fight was over Vicki setting Michael up on a date and not telling Kelly, only to then double date with Michael and his female friend (who it turned out was a mutual friend of both Vicki and Kelly!!). Strike one Vicki. Not only did Vicki strike out there during the season, but within the first 10 minutes of last night's reunion, Vicki had strike two in which she showed her hypocritical side (a very big side of  her) when she said she didn't want to be a "party girl" anymore, or one who went to out bars all the time, yet got wasted in Mexico at Andales this season (and also partied it up intensely again in Jamaica).
Strike two ya hypocrite. But honestly, the straw that broke the camel's back for how absurd Vicki is came when she spouted off that Kelly not only does cocaine, but she's never with her daughter, only to then backpedal and say that their visitation arrangement is between "you and Michael."
What was most shocking to me as I watched (and not just because I'm team Kelly) was how nonchalant Vicki was in saying everything. She kept such a straight face and seemed to just blame it on the fact that Kelly called her fat or compared her to a fart. Even Tamra and Shannon couldn't seem to get through to Vicki that the accusations she was making were intense. But …
She accused David of beating Shannon, Eddie of being gay, and then there was the Brooks of it all. She ruins relationships and hurts families through her words (& lies) and here she is now doing it to Kelly. Strike three Vic. I really hope she's not saying these awful things just to secure her spot on the show, but I could totes see that happening now that OGs can be cut (ahem LVP). Ahh, suppose we'll see how this ends in the next two weeks (it's a three parter right?) with the continuation of the reunion. But for now … whose side are you on?