"A Gift of a Season …" 
Andy said it best; season 10 of the Real Housewives of New York was the gift I never knew I needed. I mean, the couch swap before the reunion even started just shows that this group is nothing but iconic!
Let's get into it!
On the "Small Talk"
I do love when Andy goes around and says his welcomes and hellos. Two comments here: a) Dorinda does NOT look good and b) Carole & Adam are definitely something because he put photos of her in lingerie up on his IG story this week. Heaven forbid Carole own up to something though …
On the Fashion
I can not believe Dorinda's bubble dress is from this season; does that not feel like forever ago to everyone? Doesn't it seem like so much has happened since then? Ha! Remember her slurring about Saturday Night Live and how she couldn't pronounce SNL by the third time she told the story? Too too too good!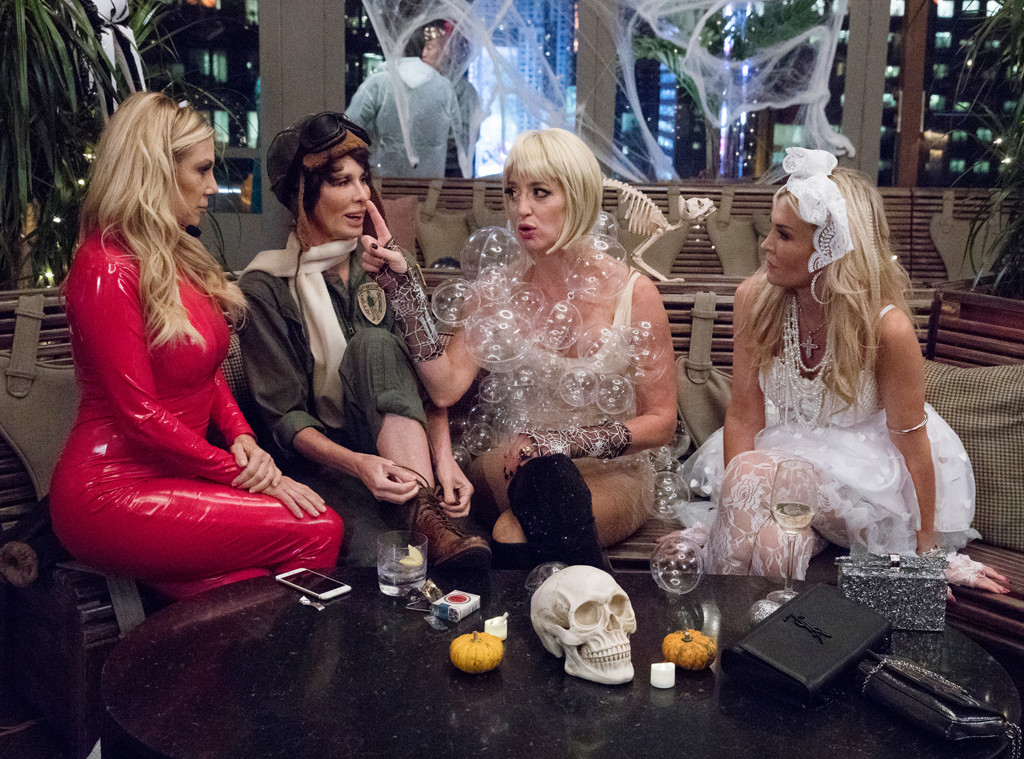 On Everyone Coming for Bethenny
Opportunistic for going to Bobby's funeral, a liar, has never said a nice word about anyone, doesn't support other women, bashed people in interviews, killed kittens … oh, wait I don't think Bethenny was accused of that last one. But seriously, did all the women get together and plot to come for Bethenny? We all know she's great friends with Andy and that she's the staple of the New York housewives but how petty can it get?
First, I guarantee Jill probably wanted the cameras at Bobby's funeral to not only honor the great man he was, but maybe help propel her back on the show. Second, Ramona has been absolutely terrible to Bethenny, so what does Ramona expect in return? If Luann would have been there, she would have defended Bethenny, which means of course the girls used her absence as ammunition; B was down an ally. If "messy' is the word from the Potomac reunion, then JEALOUS is the word from New York's; they're all jealous of Bethenny's fame, money, and quick wit!
On Dorinda's Drinking
Anyone else feel incredible uncomfortable watching Dorinda laugh after Bravo showed the montage of her many slurred speeches this season? It was also awkward to watch the shade Bravo threw at her about being there to support Lu (the lighting of the candles at the church) to Dorinda's awful behavior in Colombia ("at least I didn't get a mugshot"). So much back and forth between those two. I agree with Andy that Dorinda's drinking has made for funny memes and iconic moments, but it also may be something she needs to focus more attention on, rather than laugh off.
What's to Come
The elephant in the room that is Luann's arrest and her being back in rehab
Tinsley finally opening her mouth and speaking
A recap of The Boat Ride From Hell
Ev. Ery. Thing. that went on at Luann's show
Bethenny v. Carole (finally)
Carole v. Andy
I could not ask for anything more from season 10 of New York. I've always said Vanderpump is the best show on Bravo, but RHONY may have taken that spot. With Lu in rehab, Carole gone, Dorinda's drinking, and everyone against Bethenny, I can only image what next season will bring. But before we get to it, we have more reunion to look forward to!
Happy Watching!!!