The hubs and I needed an escape from our busy lives, so off we went to the movies! We couldn't decide on just one, so we saw two. Then, my best friend called, asking for a girls' day at the movies! I couldn't pass that up either, so here we are for a review of three popular films currently in theaters!

I'm never quite sure how to write my Movie of the Week posts (for all of them, click up in the right hand of the screen!). Do I write a review, as if readers have seen the movie? Do I write a promotion, in which I leave out spoilers and more so convince readers to go or not go? I decided today I'll walk the fine line between both and you can skip over or read whatever you choose (although I'd prefer you read everything, as well as like and subscribe –> enter email in top right!)
Bad Times at the El Royale
A bunch a strangers meet up one weekend at the famous El Royale hotel, yet nothing is quite what it seems. I. loved. everything. about. this. movie!! EV-ERY-THING! Let's start with the opening scene where a man buries a bag in the floorboards of a hotel room, only to not make it out alive. Flash forward to either the 1960s or 1970s (let's call it an even 1965), where guests are starting to arrive back at the hotel. Okay you think, I know where this is going … obviously all the guests are there to get the money. Which, could not be further from the truth.
Each character has a unique story and is featured during different sections of the movie, where the audience learns their background and motivation. And, if you think you've figured out what will happen next, you're wrong … I mean, unless you're correct, but I find that very unlikely because the plot twists here are not normal. When I read or watch a movie, I just want a really, well-told story, and El Royale provides that. In closing, while the film has many Quentin Taratino vibes ("imitation is the highest form of flattery"), I would completely give it a 10/10, encourage you to see it, and give HUGE PROPS to Cynthia Erivo; she stole the show!
First Man
Ryan Gosling portrays Neil Armstrong, the first man on the moon. Claire Foy, who LOVE from The Crown, plays Gosling's wife. I enjoy a good biopic and have always enjoyed films about space: Armageddon, Apollo 13, Hidden Figures, however, I could not have been more displeased with this film. In fact, my husband and I did something I'm not sure we've ever done before: we walked out.
I am very disappointed in us for leaving, but the movie was soooooooooo slow and sooooooooo boring … and fairly confusing. Basically, early on in the film Armstrong's daughter dies, then all of a sudden he's going on a space mission (which I thought was to the moon and found out was just a trial run), all while he's having probs with his wife?? Maybe seeing two movies in one day was a bad idea for the hubs and I … or possibly so much went on in El Royale,  I couldn't track this one? Or maybe it was the two glasses of wine I had at dinner before? #whoops. I'm sure when First Man is released to DVD, we'll try watching it again. Gosling, Foy, and the American people deserve that much from us.
A Simple Favor
Anna Kendrick and Blake Lively star as best friends with dark secrets in this film based off the novel by Darcey Bell (which I obviously read and so should you!). My favorite thing about this movie is you never fully know who to trust or who you should be rooting for. Is Kendrick the evil one or is Lively? Or, in the end, is it ultimately the husband who commits all the crimes & sins, and keeps all the secrets?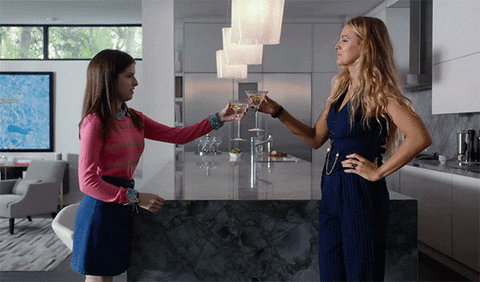 This movie is twisted for including topics like incest, sibling murder, fake deaths, and all around insane characters. I feel like Blake Lively has Serena wan der Woodson vibes with her classy outfits and sassy attitude, all the while oozing sexuality. I can't pinpoint who Anna Kendrick channels, probably that of a mouse. Henry Golding (from Crazy Rich Asians) is another added bonus to the film. I don't think this film is a 10/10, but if you're a Lifetime Movie fan or appreciate a crazy ass plot, then I definitely recommend A Simple Favor for you!
Next up:
and MHH's 100th post!