I know I don't need a new show; my DVR is busting at the seams, plus Bravo just keeps bringing me more houswives. Because of that, I wanted to share a few of my favorite shows that are quite binge-worthy. So grab a pumpkin spice latte (it's that time of the year, you know), put your feet up, and get ready to find an awesome new show you can start discussing with me!
Stranger Things
If you haven't heard of this show, I don't mean to criticize, but have you been living under a rock? It was one of Netflix's biggest hits last year and I actually binged it twice. This is important to note because I don't even have time to watch all my normal shows, let alone watch a series twice. It's. That. Good. Also it's not something that I would typically be interested; it's 100% sci-fi.
You'd like Stranger Things if you like:
The Goonies
E.T
Stephen King
Ghostbusters
My favorite character is Dustin   
   because he has the best one-liners, is a good friend, and reminds me of many of my students. Last, the next season of Stranger Things comes to Netflix tomorrow (holla!) so if you start the show now, you won't have to wait in agony (like the rest of us) for the next season!
Riverdale
One of my very first posts (Not the Archie & Jughead I Knew Growing Up: Riverdale Recap) was about the show Riverdale: the CW hit that retells the beloved comic book series. Season two started a couple weeks ago and it's soooo good! I've got a couple of my girlfriends to binge the show (trust me, it goes quick!) and even my favorite morning show hosts, Jackie & Claudia Oshry, started their own show about it: Afterdale.
You'd like Riverdale if you like:
Gossip Girl
The OC
Pretty Little Liars
My favorite character is Cheryl Blossom    
   because she's cray-zie, yet fabulous and can also have a soft side when she wants. Like I said, the second season just started so you're not too far behind if you wanted to get all the way caught up.
Game of Thrones 
There is an entire category that holds all the posts I wrote about Season 7 of Game of Thrones (click in the top right hand corner now!). I don't even know if I could write out reasons why you should be watching this show; just know it will go down as an absolute pop culture mega phenomenon.
You'd like Game of Thrones if you like:
violence
sex
attending your local Renaissance Festival
dragons
zombies
knowing what all your co-workers talk about around the water cooler on Monday mornings
My favorite character has changed from season to season due to the intense plotline, but currently it's Tyrion Lannister, or Jon Snow, or Daenerys Targaryen. Ugh; I can't decide.
Also if you're a fan of Stassi Schroeder or Ansel Elgort, they're huge fans too. Chances are your favorite celebrity is a fan, I mean Ed Sheeran was such a big fan, the show gave him a cameo last season!
Jane the Virgin
I wanted to dedicate this entire post to Jane. I finally caught up on this season (it's 4th) and wanted to blog before the third episode premiered tomorrow. Gina Rodriguez (who you definitely need to have a girl crush on) actually won a Golden Globe for her performance as Jane in 2015, which led me to start binging the show.
The show is told Telenovela-style, so there are subtitles you'll have to read, but it totally makes the show. I don't even want to give away the premise of the show because it's so funny and so ridiculous. My favorite season is probably the first and the current. There are a ton of cameos, including BRITNEY SPEARS, which if you read Justin Timberlake: Superbowl 51, you know how I feel about Ms. Spears.
My favorite character is Jane's dad, Rogelio,


because while he has the biggest heart, he's extremely self-absorbed and it's HILARIOUS!
Jane is a great character too, but that's all because of Gina Rodriguez. She OWNS the role, but is also just an amazing role model in her real life. She's not the skinny, blonde, ditzy stereotype of a female lead; she's smart, feisty, and 100% real. I love her! Last, this show will not only keep you on the edge of your seat with some shockers, but will make you laugh out loud plus give you all the feels!
So what shows have been your favorite to binge?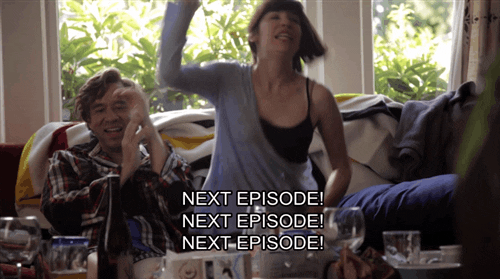 Find me on social media!