I'm finally caught up on Big Brother and ready to discuss!
Mostly because, I'm not hating it … yet. I've watched BB for ten years now (Season 11 was my first) and the last few years have been paaaaainful to get through. Season 15 had some of the worst humans possible on the show, who made terrible, racist comments toward one another. Seasons 18 & 19 brought us not one, but TWO summers of Paul Abrahamian. And last season was basically just one side of the house against the other, with no one enjoyable to root for.
But this year …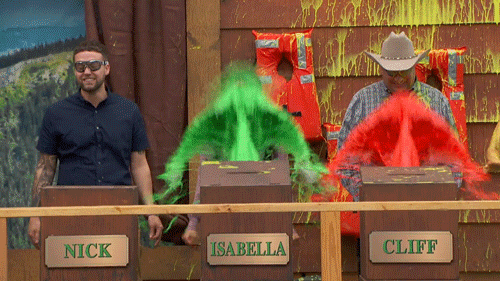 … doesn't suck (so far)! In fact, I look forward to watching it on Sunday! Let's get into it!
The House Guests
As the show progresses, I know I'll be flippy-floppy on who I enjoy, but right now I really find everyone pleasant, except for Jason Momoa (I don't even know his first name, but you know who I'm talking about). I don't like how he tried to control the HOH this past week (Christie I think her name is? She reminds me actually of Christmas from a few seasons back, the contestant, not the season). And NOW *spoiler* he's is the HOH for this upcoming week. Ugh.
Every year, I root for an all girls alliance, but sadly it seems like that won't be the case, yet again. However, I guess it possibly could still happen as Christie decided to not complete Jason Momoa's plan. I'd love to see them all band together to get out Momoa and his sidekick, homeboy Jackson. I also wouldn't be sad to see Kat or Kemi leave as well; I read both their bios, and their BB knowledge seems quite limited, which always annoys me when CBS casts people who haven't watched much of the show. So far, my favorites include Holly, Tommy, Nick, and Sam.
The Twists
While I think the secret powers are kind of dumb, I am obsessed with this Camp Comeback twist! Basically, the first four evicted leave the game (no comps or voting), but can continue to live in the house socially, with a chance to eventually enter back into the game (only 1 person). But, why I love this so much is if you're Head of Household and evict someone, they don't leave! They're still in the house living right along side you, discussing with others why they got voted out, and hovering around with a chance to come back into the game fully.
David (who was gone too soon) and Ovi (who is so sweet & enjoyable) are the first two in this camp. I think both of them are strong players socially and could shake up alliances, especially because it seems like some house guests are starting to crack (Christie, Kat).
For Now

…

Hopefully I can keep up and not fall behind with the show like I have in the past. It can be really hard, especially with it airing three days a week.

I predict Jason Momoa will target Kemi because that's who he wanted out originally; she has no game knowledge and seems like she's only good for talking smack on people, so I see her getting really upset with being nominated. I'm here to watch her implode … explode? Or, I could see Momoa being upset with Christie for not nominating Kemi last week like he wanted; Christie is in his alliance, so that too would be a shake up. It's boring to me when alliances stay together for week after week, running the house; I like when they implode … explode? and there is oodles upon oodles of drama!

It's pretty early to predict winners; I'd really like Sam Smith, aka Daffy Duck, win because he's a dad and seems like a good dude. I also respect Nick and wouldn't mind seeing him win because hes child therapist; I mean, what an incredible job to have!

Make sure you're following me on Twitter for continued updates on all things BB21!