Before reading, please go check out the updated About Me Page — it's SO 2018!
You. Guys. The Golden Globe Awards were basically the inspiration behind MHH. Okay, the Golden Globe Awards AND housewife reunions, but what I mean in this is I LIVE for the award show! It's my very favorite time of the year and why wouldn't it be the best award show? Not only do these awards support BOTH film and television, but the GG aren't as stuffy as the Oscars but not as eccentric as the Grammys. PLUS, all the celebrities get endless bottles of champagne.
First, the Awards:
Best Actor TV Drama:
Sterling K. Brown! His role as Randall is not only one of my favorites, Sterling is one of my favorites simply as a person. Seriously look up any interview he's done; he's a great human!
Best TV Series Drama:
I watch four out of five of these shows. Yet, the award goes to the one show I don't watch. (roll eye emoji) I knoooow the premise of The Handmaid's Tale is important in this time in our world and is also entertaining, but why couldn't one of the other four win?
Best Actor & Best Actress Drama:
Gary Oldman and Frances McDormand winning these awards makes me want to see these two films that. much. more!
At the end of the day, congratulations goes out to ALL the winners!!
Second, the Flims:
I haven't seen one movie nominated this year (I know, very unlike me); it's probably because I watch so much television. However, my goal for the next two months is to see all the films nominated. I did want to just quickly comment on them based off the short clips shown on the Golden Globes.

The Greatest Showman — I love musicals and I loved Hugh Jackman in Les Mis! Jackie and Claudia Oshry (my Morning Breath girls) say you HAVE to see this film!
The Post: — I love Hanks, Streep, & Spielberg, plus a good historical drama. I really want to see this film.
The Disaster Artist — So this is a true story? Wow this looks like the craziest role I've seen of Franco. I'm so intrigued by this; need to see.
The Shape of Water — My first thought, weeks back, on this film was, "Too weird!" But I'm intrigued seeing as it's set in the past, plus is giving me major Stranger Things vibes.
I, Tonya — WHY HAVE I NOT SEEN THIS YET, DAMNIT?!
Dunkirk — I originally wanted to see this for the same reason I'm sure you wanted to: Harry Styles. But, as I mentioned above, I enjoy historical films so yes I'll be watching this.
Get Out — Oh, I guess I did see one nominated film and this is it! Get Out is so so so so so so complex, intriguing, thrilling, shocking, and good!
Lady Bird — One of my good friends can not say enough good things about this movie, so okay, T … I'll check it out just for you!
Call Me By Your Name — Literally have never heard of this movie. Have you?
Three Billboards Outside Ebbing, Missouri — Intriguing. Want to see.
Third, the Fashion:
Unless you were living under a rock watching the Golden Globes, you should have noticed all the black on the Red Carpet. This was part of the Time's Up Movement and I thought it was really cool that Hollywood came together for it in the way they did.
Jessica Biel and Justin Timberlake got my vote for Best Dressed Couple (& no it's not just because I'm obsessed with the both of them). The interviews they gave on the Red Carpet were so amazingly supportive of one another; they should be an inspiration to all Hollywood couples!
Viola Davis's hair and necklace!
Overall, my favorite fashion moments go to Kerry Washington, Margot Robbie, Claire Foy, and Catherine Zeta-Jones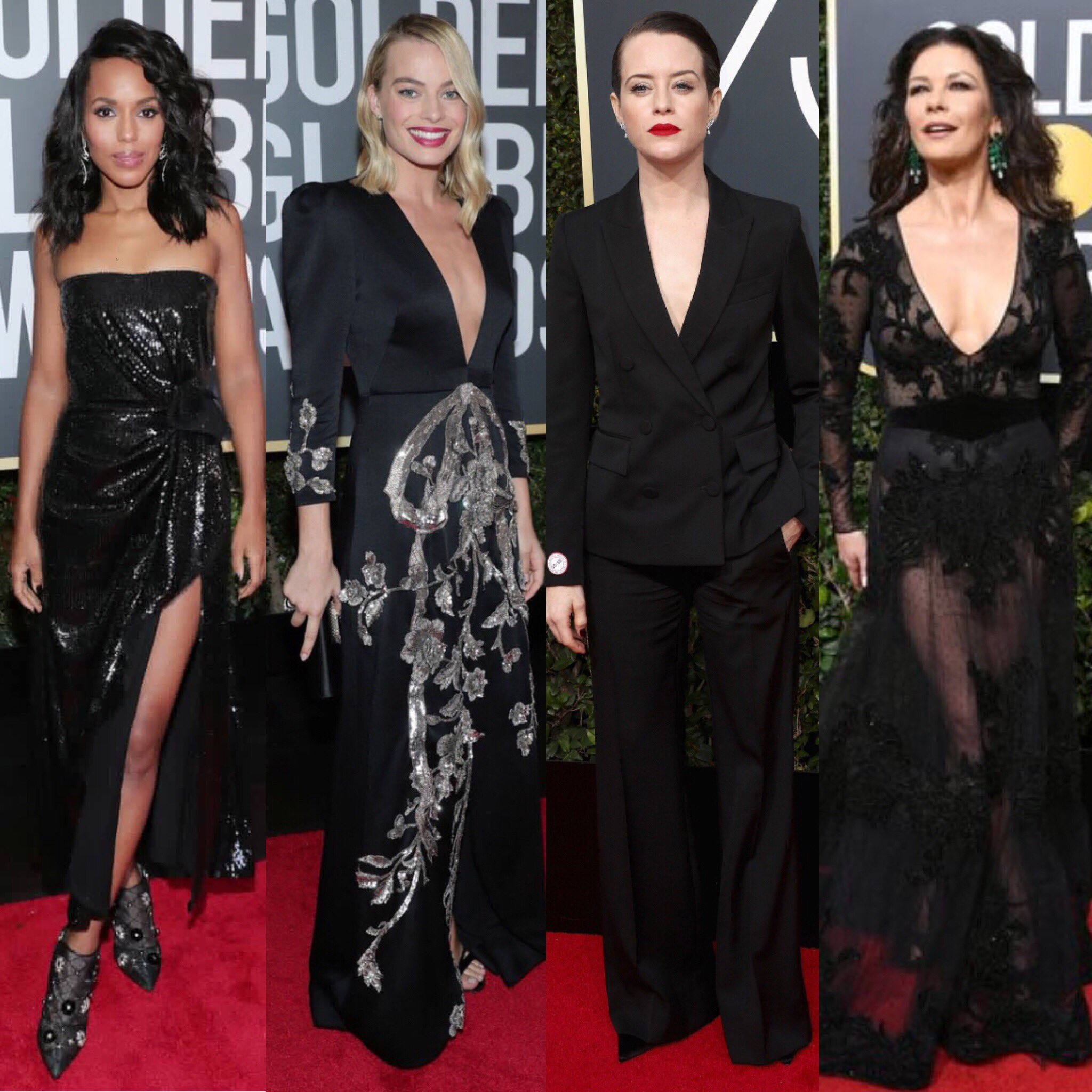 And finally, Final Thoughts:
"When my cheek is against yours everything else melts away and that is love" — Nicole to Keith; so sweet!
Allison Jennings recognizing Tonya Harding; so awkward (Tonha plotted to break her opponent's knees!)
James Franco pushing Tommy Wiseau out of the way while giving his speech; so funny!
Almost every acceptance speech; so typical (ahem ahem preachy)!
Halle Berry's long hair; so not here for it!
Oprah; I so miss her show! It was my favorite thing to watch everyday after school!
Oprah 2020!!!!
"It's taken 25 years, give me a minute!" Yasss Guillermo del Toro!!
Looks like I really need to see Lady Bird!
Barbra for VP in 2020!
Once again, it was fun watching and tweeting the Globes. But this year, MHH was here to spread the Golden Globe love further! I'm off to watch some films before The Oscars! Until next time!