"I'll be there for you…"
This weekend, Netflix sadly gave me a notification during my Friends binge, letting me know I'll no longer be able to be view the show anymore starting January 1st.
I still have a few weeks left, yet I'm already having anxiety about its leaving, and not just because it has become one of my favorite shows. I started watching Friends on maternity leave with my first child. The struggle was real, ya'll. While I love, adore, cherish, and am obsessed with my son, those first couple months were hard. Like, really hard. Like, more people should talk about how hard it truly is.  Yes, my TV days were out the window (Reality Check!!), but baby boy still slept quite a bit during the day, and I found myself needing something to watch, perhaps something I didn't have to fully focus on as I do with Housewives (I focus hard on housewives; it is not just mindless television), I decided to start Friends. By start, yes, I'd never fully watched the show. I'm a millennial; the show was before my time (think more Gen X).
What. Was. I. Thinking?? WHY did I never start watching this sooner? Why did I always get upset when reruns aired, thinking to myself, "Ugh, nothing's on."
This was and is brilliant television!
I'm not even sure I can put into words how the show eased my anxiety of first time motherhood fears, but thank heavens for it. I found smiles and laughter during a time when I was absolutely scared to death (seriously, I asked myself over & over how the hospital could let us leave with this small human; how could we now be the ones in charge?).
From Ross's sad "Hi" …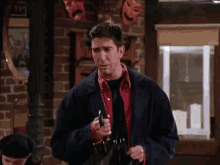 to Chandler's sarcastic comments …
to everything Phoebe did or said …
… I giggled, and giggled, and giggled some more! Often loudly! Never had a show made me laugh out loud more than Friends. Besides laughing, I now understand so many pop culture references I had heard, but never understood, like "SEVEN!" or "Smelly cat" or the Holiday Armadillo!
I guess my point is, besides the fact that I'm beyond angered I never started the show sooner, I'm so thankful for it. Thank you Phoebe, Chandler, Rachel, Ross, Joey, and Monica, for coming into my life and calming my fears through laughter during a trying time. The show will forever be significant to me because it reminds me of the special time I got to spend with my boy, and the early weeks of his life, when I didn't think I could make it. Now I know I can handle anything thrown at me … with a little help from some Friends (see what I did there!)