Orange County is back!
We're three episodes into the 14th season of Orange County, and I have some thoughts! An orange was taken away from an OG, while a mother of seven has come to entertain …
Shannon
Fun Shannon is here and she wants everyone to know it!! It's a teeeeny bit annoying though, like stop trying to make fetch happen. However, I prefer this Shannon over "You will all see the truth!" sad, crying Shannon.
Per the first few episodes, I'm very proud of Shannon for accepting Braunwyn, instead of rejecting her like she's done with new girls in the past ("I start charities, Meghan!"). I hope her positive attitude lasts the rest of the season. And, while I'm loving, living, HERE FOR a Kelly/Shannon bffriendship, that does not look like it lasts …. hmmm …. !!!
(I blame Tamra🚂)
Gina
Ughhhh, why did Bravo bring her back? What does she add to the show besides a DUI? All I'm really getting from Gina in are Amanda Bynes vibes, with the horrible platinum hair and bad decisions.
However, Gina let us know how we got here on this week's episode: her husband had an affair and seems to still be seeing the women he cheated with. Clearly Gina didn't want to reveal any of this on the show, but now it all makes so much sense! This explains why she was so vague about their divorce last season, plus explains why she seems to be struggling so much this year. Ugh, I actually feel really bad for her.
Kelly
"Pancake titties!"
I'm here for Kelly this season, much as I am every season. She has a new man (currently over), a blossoming friendship with Shannon (also over), and one of the better taglines (at least she gets one win!). Seeing as so much has changed in her relationships since filming, I'm curious to see how the season plays out for her.
I also want to say I think she's a great mom (the ski trip looked so fun!), and I feel terrible for the DMs her daughter received due to the drama between Kelly and Vicki. #boo
(I just realized I picked horrible pictures of the women … oh well 🤷🏻‍♀️🙃)
Tamra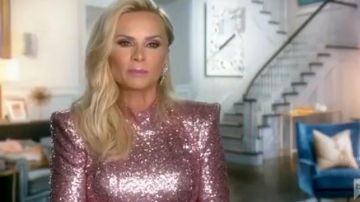 New house, same Tamra. We've learned Eddie is healthy, and Ryan is a Trump stan, but besides that, what's really new with Tamra except for her two new staircases and county club membership?
This week (again) not much happened with Tamra, except at the blonde bombshell dinner towards the end of the episode. Tamra yelled out " train" in regards to a rumor about Kelly. Go on Twitter if you don't know what this means; I refuse to say. For Tamra (in real time) to not understand "what she did" to Kelly, like, Tamra can't be that dumb; the proof was at that dinner and what she said regarding Kelly. Honestly I'm very disappointed in Tamra.
Emily
Is Emily the next housewife to follow in the footsteps of so many before her and get divorced? She should because Shane is freaking awful! He had some bad moments last season, but I can't bear to watch anything regarding him this season! Emily literally threw a dinner for his family and he couldn't bother to show! Not only that, on the phone he was a complete 🍆 to her!! Perhaps Shane's getting a bad edit?
I think not though because this week Emily shared the Vegas performance she planned for him, and how he shut that down. I kind of agreed with Gina that Shane wouldn't be into it, however, at the end of the day, I'm over his studying/horrible attitude/bad edit. I'm needing a new story line for Em.
New Girl
How has Braunwyn not become an OC housewife sooner?! She may be the first newbie I not only approve of, but am obsessed with! She has the best tagline ("I manage to wrangle a family of nine and still look like a ten"), she fits in well with the women, she stood up to Vicki (but was also willing to apologize!), she is (appears to be) a great mom, and she's open & honest! I was so surprised by the story she shared with Shannon about all her daughter's struggles. I'm really here for Braunwyn friendship with Shannon, and learning more about her this season!
Friend Of
🐷🐷
I can NOT believe the pig video Kelly sent to Vicki! While you should never ever speak on someone's looks, Vicki took the first shot by throwing out into the universe that Kelly does cocaine. However, the bigger story this season is that Vicki got "demoted" to "friend of"; I'm not quite sure how I feel about this. To me, OC isn't the OC without the OG, but recently all the OGs have been so annoying & self-centered (Vicki, Nene, Teresa, LVP, Luann), so it's probably a good lesson to learn: no housewife is safe.
For Vicki, this week's episode opened with the continued fight between her and Kelly at Tamra's, basically a replay of the last 10 minutes of last week's show.
Vicki is tooooo much; she was her classic Vicki self in the way she attempted to "lecture" Braunwynn how to act & think in the group, and at the ladies' dinner, Vicki continued her messy messy ways, by spreading more lies about Kelly. Vicki said juuuuust enough to cause problems ("What I know is so much worse than doing coke"), then drunk Tamra finished it for her (🚂).
If all these rumors are going to do anything, it will be to provide us with some intense drama in the weeks to come!