The episode opened honoring the fallen from the Battle for Winterfell, alongside a beautiful speech by Jon Snow.
Know who was not one of the fallen? Ghost!
Party in the North!!

                Gendry is named Lord of Storm's End
                Podrick, Brienne, Jaime, and Tyrion played a drinking game
                Jon Snow is basically treated like a god!
Annnnd Dany didn't seem to like it*
As the party continued, Tormund got more sloshed, and even cried over his longing for Brienne.
GENDRY FREAKING PROPOSED TO ARYA!!!*
Jaime and Brienne sealed the deal that fans have been waiting for since Season 2!!*
Dany pleaded to Jon not to expose the truth about his parents.*
And after a fun night of partying, the battle plans to take the Iron Throne from Cersei were underway!
A Stark meeting was held and Jon learned his sisters do not approve of Daenerys or her plan for war. So what does Jon do? Tells them his secret!
Winterfell:

Jaime will stay there with Brienne and not go fight Cersei.
Sir Bronn of the Blackwater arrived, almost killing Jaime and Tyrion …
So Tyrion offered Bronn Highgarden in order to live.
Gilly and Samwell have also done the deed … because Gilly is pregnant!
Sansa opened her big, fat, HUGE mouth, and told Tyrion the truth about Jon, who then turned with his big, fat mouth and told Varys.

WTF! A dragon just died!
A ship just sank!
Missandei is captured!!
And just like that we're back to what I would consider a traditional Game of Thrones plot: Tyrion and Varys discussing strategy and who should be the true ruler (as much as it pains me, I agree with Varys), Jaime returning to Cersei (we'll discuss further in a minute), Daenerys back at square one with no army, and a beheading (RIP Missandei!).
Honestly, I'm not surprised the last three episodes are coming down to the battle for the Iron Throne (2019 hashtag anyone?), because this has been the plot all along … since the days of Ned Stark! For those who said Season 8 should be entirely about defeating the dead, and were upset it took place in only one episode, I disagree. The Night King and the White Walkers returning always felt like a subplot to me; the whole show has been nothing but strategy, "rightful rulers", slaughter, war, death, and Cersei as the ultimate villain (except for the brief moment when she was shame, shame, shamed!), and that is the way the season will (or should) end (I'm assuming).
Let's talk specifics …
"Arya, will you marry me?"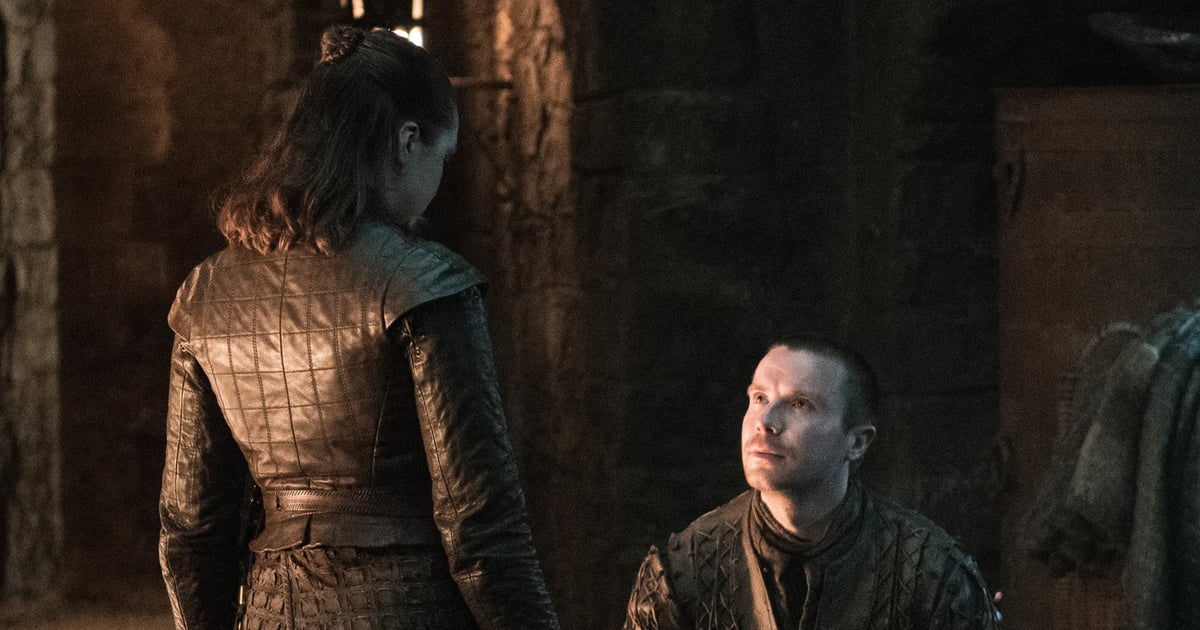 I won't discuss this scene in much length, but I do need to mention it. How freaking cute was Gendry??? He was so excited that he became a Lord, he ran to his lady, confessed his love, told her she was beautiful, said he wanted her to be beside him as he ruled, and then proposed! SO SWEET! However, I get it, Arya is not a lady and she never has been. She's an assassin & all around badass. Plus, GOT is not sweet. So as sad as I am that it didn't work out, I understand why. Speaking of working out …
Jaime & Brienne (part 2)
After knighting her two weeks ago, to fighting alongside her last week, to ahem, well you know what they did this week, all my hopes and dreams and wishes were coming true for Jaime and Brienne. We all soooo knew once the virgin comment was made by Tyrion during their drinking game, and Brienne stormed off with Jaime following, it was going to happen! And OMG how funny was his "It's so hot in here" pick up line?! The confident, Kingslayer who takes what he wants from women (okay, mainly his twin sister, barf!) had to use a pick up line in this moment? Regardless, it was sweet. What was even sweeter was he wouldn't share details about it with Tyrion, plus he wasn't going to return to Cersei, but rather stay in the North with Brienne.
Until he leaves. However, I'm convinced Jaime is not returning to King's Landing to be with Cersei, but rather to take her out and redeem himself for being a "bad man."
(Here is a great article that examines their relationship further: NYPost and a second article that disproves my theory Jaime is off to kill Cersei: Vanity Fair).
Is Daenerys becoming her father?
It really felt that way to me as I watched Sunday's episode. However, I think that would be too convenient for the writers to do because it seems like they're already leading her down that path. You could tell this by a) her resentment at Winterfell when all the men were congratulating & boasting about Jon Snow, b) her begging Jon not to tell anyone the truth about his parents because then all would know he's the true ruler, not her, and c) thinking she could match Cersei with that tiny army and one dragon.
It doesn't help that Missandei's blood is on her hands for making rash battle choices when she was warned to give her army a rest. Granted that advice came from Sansa, who Dany seems to despise, but still. Now tides are shifting because Varys is questioning her sanity too; it's not just the Starks that don't trust her decision making. Maybe she does go power hungry and burns the world down? Maybe she tries to kill Jon? I have no idea where the plot surrounding Daenerys can lead because I'm sure to be shocked regardless: sane Dany who backs off I don't expect, but tyrant Dany I don't expect either. Here's to finding out in the next two weeks!