Game of Thrones is baaaaaaaack and I couldn't be happier, or more basic about it! Seriously I saw so many tweets over the weekend about how obsessed we all are with this show …
… yet, it's fun to be part of the cult following. It's fun to discuss with others, and it's fun to blog about, so here we are! My recaps of season 7 were mostly my list of emotions felt during each episode (as told through emojis). This season I think I'm going to simply list off the major plot points, then pick a few to discuss in depth! So let's get started!
Major plot points of the premier:
Jon Snow, Daenerys Targaryen, the Dothraki &  the Unsullied arrived in Winterfell, to a much unwelcoming Northern people.
(But Dany looked bomb in that white & maroon coat, though!)

Theon saved his sister.

Sansa gave Daenerys stink face.

Cersei consummated her relationship with the grossest of gross Greyjoy, after he arrived with the Iron Bank's army.

Jon Snow rode a dragon.*

Jon and Dany kissed.

Jon and Arya reunited.

Bronn was summoned by Cersei to kill her two brothers.

Sam found out Dany killed his father and brother.


Sam told Jon the truth about his biological parents.*

The Night King left some weird, bloody, foot, spiral "message" that I don't understand, but you can read more about 

here.

Sidebar: Does the Night King have a brain? He has to right? I mean he obviously has rational thought to have the idea to spear a dragon, thus giving him an ice dragon; now this message? Do just the White Walkers have thought, and the wights don't?

Jamie arrived in Winterfell & realized Bran is alive … or did he already know he was alive, they were just having a massive stare down (which Bran did with everyone in this episode for some reason??) …. ??
Further discussions:
Jon Snow riding a dragon.
We all knew it was coming; we saw the dragons warming up to Jon after we learned he's half Targaryen. The fact that he only rode the dragon to go off and have a secret rom com moment with Daenerys makes it better (or possibly worse). Was it all a bit cheesy? Totes. Was it what we were all waiting for? Hells ya.
Jon Snow finding out the truth about his biological parents.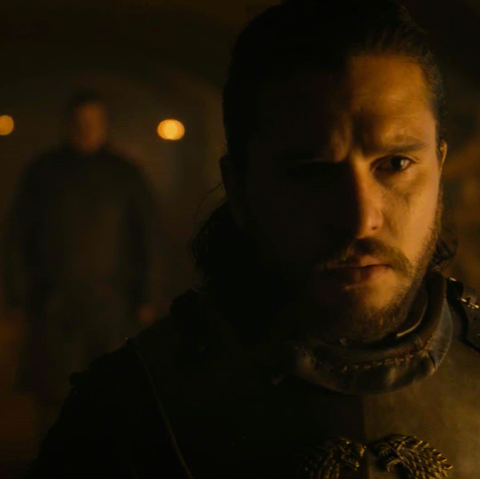 I was really shocked that Jon found out so soon (episode 1) that Dany is his aunt, I mean, that he's the true heir to the Iron Throne. I thought for a moment he was going to hurt sweet Samwell based off his reaction. Think he was more upset that he has to end his relationship, or that he's the true king … probably that he's the true king, but who knows for sure; Jon Snow can be so sulky sometimes. However, rather than waiting this season to see when it would be revealed, I'm glad we can all look forward to how it will play out.
and one last thing …
Finally, can we talk for a moment about how horrible the Northerners were treating Dany's army, and Dany herself?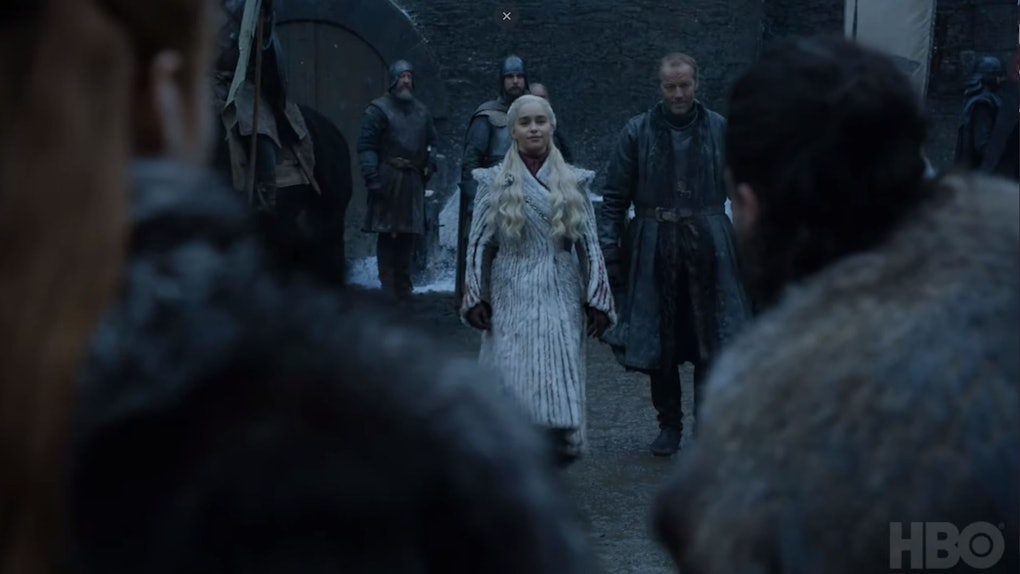 I get it, I get it, you named someone King and he basically said, "Screw you" by bending the knee to an outsider … a female outsider from the deep south. But why can't they just realize she's basically there to save their butts from the ice army of the dead? Be grateful!!!
What are your overall thoughts and feelings that Thrones is back, if yet soon ending? Find me on social media and let's discuss! Until next week … !!