"I'm off the deep end, watch as I dive in…"
I realize this movie has been out for what seems like forever, and MHH had yet to review it. Honestly, I wasn't even sure I was going to because I had so many mixed emotions regarding the film. It took me a couple weeks to process what I watched, but I think I'm ready to discuss now!
The Good
1. Bradley Cooper's acting.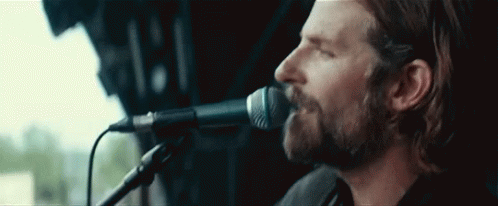 I like Bradley Cooper as an actor, but I don't think I like like him as an actor. I don't run to the theater to see a Bradley Cooper film, but Star is Born may have changed that. Not only did I believe him as a singer (and don't mind listening to him on the soundtrack), but I completely bought into the fact that he was a troubled addict. He made his character seem so sloppy and in constant need of a bath with that greasy hair. He absolutely committed to the part, brought pain to the story, and should without a doubt win all the awards for his role.
2. The music.
Whether you're a fan of rock, country, or pop music there is something for you in this film. Whether you love "Born This Way" Gaga or Joanne Gaga, she'll give you something in this film (I more prefer Joanne to be honest). Fun fact: if you didn't know, many of those festival performances were real, including an actual Coachella performance. Don't believe me? Click here to read about it!
My favorite Gaga solo songs included "Look What We've Found" and "Always Remember Us This Way;" oh! and if "I'll Never Love Again" doesn't win every Best Song category during award season, the whole system is SERIOUSLY DISTURBED! I loved all the Cooper/Gaga collabs too, including "Music to My Eyes," "Diggin' My Grave," and OBVIOUSLY "Shallow." Even if you don't think the film will be your cup of tea, watch it just for the music!
The Not So Good
1. Lady Gaga as Ally
I don't blame her acting and I'm not here to announce that she is a bad actress. This happens with some of my favorite actors/actresses and Lady Gaga falls into it. I simply could not suspend my disbelief with her while watching. I never bought into the Ally/ Jackson love story because I just kept seeing Lady Gaga next to Bradley Cooper. I did mention how great BC acted and yes, he became his character, but honestly I think he needed a different lead (albeit I have no idea who could have played the part … so maybe I should just shut up now).
2. Sadness
Warning ** spoilers ahead  **so maybe stop reading now if you haven't seen the film.
I had no idea prior to watching that Bradley Cooper's character was an alcoholic and drug addict (come to find out this is the case in all three films). Not only that, but his demons with his father and his brother were hard to watch too. While his ending was ruined for me by a friend, everything leading up to it, especially the scene where he called her ugly and the Grammy speech, were torture to watch. I had a really really hard time being emotional at the end of the movie while she was singing "I'll Never Love Again." If anything, I felt anger. I was angry at Cooper's character for leaving Ally. If she was his absolute, one true love, he should have got clean for her … regardless of what that dweeb manager of hers said. I was so pissed at him for leaving her in the end and honestly, it ruined the movie for me and that's why I can't love it as much as the rest of the world.
All in all, see the movie. In fact, see it twice (I think I need to re-watch it myself) and see the Babs version as well as the Judy Garland version. The music is too too good for you not to see it. Bradley Cooper is too too good for you not to see it. And I'll always love Gaga, she can do no wrong (Can we please talk about Lady Gaga?), so there is the third and final reason to see the film.
Then come find me and let's discuss!