Hi friends!! I haven't written a post in a while due to middle school teaching and cheer being so busy, but what I'm never too busy for is watching the housewives. Now that we're really getting into the seasons, I want to share my thoughts on the OC and Dallas women.
Orange County Housewives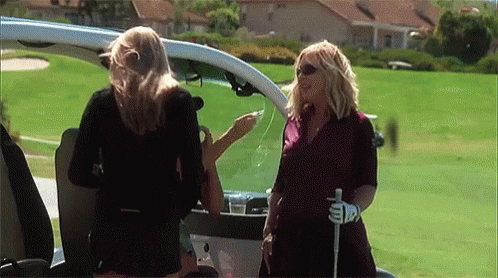 RHOC has been kind of a mess lately. Last season with Lydia was such a bust, and this season it looked like we might be headed in the same direction. Kelly Dodd is saving the show. First, let's discuss what's hurting and what always seems to hurt on housewives: new cast members. I had to fast forward the scene with Vicki and Gina because it's so hard to watch Gina struggle raising three very small children all on her own. Plus, she's so much younger than the other women and is just removed from their deep, inner circle that she makes for boring tv. Don't ask her back next season.
Who should be asked back? Heather, Alexis, or Gretchen! Bring back some OGs who have history with the Core 4, and who will ruffle feathers (especially Shannon's … we'll get to her shortly). As far as Emily goes, she shined on this week's episode, freaking out in regards to Kelly's comments about Shane (Emily's husband). I can't wait to see the aftermath next week! Kelly Dodd may be single and ready to mingle, as well as Shannon's new ride or die, but she's still the same Kelly, who makes obnoxious comments ("You're a dork! You're a little b***h!") that I am so here for and is much needed to hold my attention of the show.
I could not have been more shocked to see Shannon feel guilty over how she makes everything about herself (which she does) in regards to her friendship with Tamra (who was wasted most of the episode). I want to root for Shannon because she's gone through so much the last two years, but it's to the point where she is becoming as unbearable to watch as Vicki. Again though, I was proud of her for taking a realty check with Tamra, as well as being a great friend to Kelly. I'm so so so here for their friendship!
Cheers to those two and cheers to Emily for helping me be excited to watch this week!
Dallas Housewives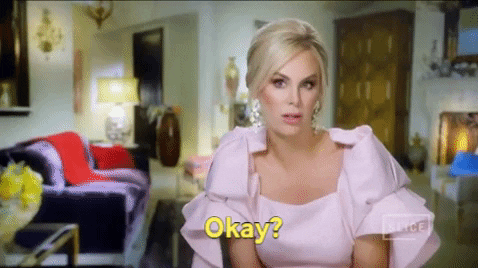 Sooo … yay Brandi has a new baby, yay D'Andra is starting her own business (maybe), yay Kameron is still talking about Sparkle dog food …. oh wait. DALLAS IS BACK! I haven't yet blogged about these women, (unless you count the time I went over their new taglines … click here!), so I'm excited to dive in and discuss the third season! As far as the actual ladies go, I'm always (and always will be) team LeeAnne, although the rodeo bar scenes were a bit much (that floor dancing!). I'm really loving Stephanie this season as well! And, I know so many people dislike her, but I kind of enjoy when Kameron is on my television. Brandi, to me, is the OG of Dallas, so I enjoy her for what she brings to the show and don't ever want to see her leave, but she's not my favorite favorite. However, I really can't stand D'Andra or Cary (and thank goodness Cary was out of town this week & we didn't have to see her much).
Anyway, I thought the Beaver Creek episodes were fun to watch and made me more excited for the bigger trip they'll take later in the season. This week, it was nice to see Brandi with the ladies without Stephanie & Cary, and I'm glad Kameron brought it up to discuss. I'm suuuper interested to see how everything is going to play out with the new forming friendship of D'Andra & Brandi … mostly, will it give us another famous LeeAnne line?
The next episode looks a little boring, but I get that we're still developing the season. I can't wait for that confrontation between Brandi and LeeAnne in costume!
As always, come find me on Twitter or IG so we can discuss the women in further detail! This week expect another post because … THE EMMYS ARE TOMORROW NIGHT in which all of television (except, sadly, the housewives) are rewarded! I'll be watching live, as well as Tweeting all the fashion, winners, and losers!
Post Script:
I've been pretty quiet on all the Bachelor related drama that's been in the news: Amanda's arrest, Bekah's pregnancy, Paradise finale, Jenna & Jordan … it's not that I don't care (everything is up on my IG), I'm just frustrated still about Colton being named Bach (read all my thoughts here: Colton is the Worst), and quite frankly … I'm needing a major Bachelor break. I need my homies, aka the housewives, to raise me up from this tv slump (which they have!) … thus, I won't be discussing anymore Bachelor until Colton's season … that is, if I watch!