Sunday's Potomac Reunion
There is a clear divide between the Potomac women; the seating chart obviously said so. The word of the reunion seemed to be "messy" and those three to Andy's left were so so messy this season, especially Ashley. I don't think I realized how much so until I watched some of it back and then through the discussion of it all. However, I definitely feel they are in tune with what is necessary, meaning they know how to stir the pot, throw shade, and make a show entertaining (Ashley, Robin, Gizelle) !! Speaking of shade, is Andy getting tired of hosting reunions? I say this because it seemed like his patience was extremely short and he couldn't help telling the ladies when they were
      !!!!!!!!!!!!!!!!!!!!!!!!!!!!!
Monday's OC Poker Game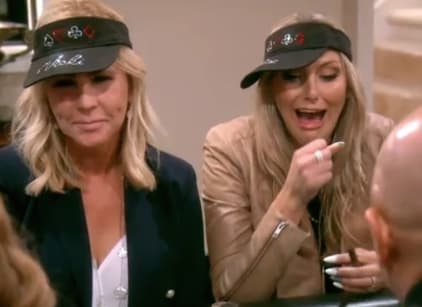 I feel like I should have committed an entire post to this week's RHOC because I have many thoughts. First, I am so here for the single Kelly and single Shannon friendship. I'm really glad Shannon was honest with Tamra about how she felt she bonded with Kelly. While I get why Tamra would be jealous, I think Kelly and Shannon understand what each other is going through and can really help one another through their divorces. Second, Emily is such a snooze fest, like why is she even a housewife? Third, at the beginning of the episode, was Gina at a flea market? Is she poor? Why is she even a housewife? Especially since all the other women have had "so many procedures!" Jaw DROPPED when she said that. Finally, everything I just wrote is really hard to watch and even harder to discuss when Eddie is going through some serious shit. I don't keep up with Tamra on social media, so can someone research for me and see if Eddie's on the road to a final recovery?
Dallas Taglines
I know that season 3 of the Dallas ladies premiered this week, and it's saved on my DRV, and I promise to blog my thoughts once the season gets going (in fact, I'm kind of liking this "Real Recap" format). For now though, I'm too invested in RHONY on Wednesdays, and really can take only so many seasons at once. I will say though, I'm pleased there are no new ladies in Dallas, and with that let's dive into my favorite taglines. Kameron's is my favorite with "I've got heels that are higher than your standards." Honestly girl, I feel the same way about some people. I always like a good Texas reference, such as Brandi's "This isn't my first rodeo, so I'm not taking your bull, " and LeeAnne's "You don't mess with Texas, and you don't mess with me." I wish those two would be friends this season; here's to hoping! D'Andra's is fine because I get it has to do with her mom and their business ("Running a family business is a job for one tough mother."), Stephanie's is fine too, playing up the fact that while she may spend money, she's not here for drama ("Investing in drama is not in my budget."), but Cary's is the worst and it's probably because she herself, is the worst ("When life gets messy, just build a bigger closet."). I love the Dallas ladies and am stoked to watch this season!
The Housewife Queens: Wednesday's RHONY Finale
Following the most intense season of New York housewives ever will soon come the most intense reunion (or so I hear). What I didn't hear was that a trailer of the reunion was officially released!! (See below).
As far as this week's episode, I LOVED how it was centered around Luann's cabaret: the women getting ready for the night, the show, and then the after party. She did great too! Obviously, it was way wrong for Tinsley to spill the beans to Dorinda regarding "invite-gate" (I still don't understand why Scott was invited, but John was not) because obviously Dorinda would not let it go and thus would ruin Luann's night … which she did! I remember seeing the video of Sonja's dress coming off from that night (classic!) and I was very happy to see Ramona show Lu so much support. In closing though, all of Lu's success on the finale made me sad knowing she missed the reunion and had to go back to rehab. All I do is wish her well!
Winners of the Week
Potomic Reunion: Andy
OC: Shannon & Kelly
Dallas: Kameron & LeeAnne
RHONY: Lu & Sonja