"If there is anyplace to help me fall in love, it's the Winter Games…"
and I can only agree! I had more smiles watching four hours of the Winter Games, than all of Arie's season. I'm too lazy to go into the premise of the Bach WG, and I feel like if you're here reading this post, you probably already know what the show is about. Click here for the who, what, when, where, & why of the show; I only have time for my thoughts.
Initial reactions …
I guess it wouldn't be a Paradise spin-off if Ashley I. wasn't caught crying, but you'd be so shocked to hear her story at the end of the week (spoilers ahead if you haven't watched … wait, why are you even reading this if you haven't watched?!).
I'm not sure if it's Olympic hype or the the boredom I feel for the current season the The Bachelor, but I am SO pleasantly surprised that I was not in pain watching the first two episodes of Bach Winter Games! There are just SO many things I liked about the show.
While the whole "opening ceremony" was stupid, I loved meeting the cast (cast? contestants? singles? players? WHAT DO YOU CALL THEM?!) from other Bachelor franchises, especially from other countries! I immediately loved the Canadians: Kevin (swoon) and Benoit (more on him in a minute). While I thought it was a little weird bringing someone in who spoke zero English (Japan), I knew Yuki would bring something special, if not entertaining, to the mix!
Click here to meet the full cast!
Since I only became part of Bachelor Nation during Jojo's season I got to see a few familiar American faces including Luke, Dean, & Eric. But it was fun to meet people from past seasons I didn't watch including Lesley and Clare.
I also really enjoyed the different competitions during the show, especially because most of the Americans are from L.A. and have no idea what they are doing in or on the snow. I just feel like sometimes these Bachelor shows do nothing but talk about feelings, talk about feelings, or kiss, kiss, kiss (ahem, Arie's season right now zzzzzzz…) so it was fun to see the cast (cast? contestants? singles? players?) do something different and compete against each other (and not just for one person's attention).
Speaking of something different, I LOVED how at the first rose ceremony, you weren't guaranteed a rose if you were in a relationship; you got voted off by the opposite sex because "maybe you weren't here for the right reasons!" It was BEYOND entertaining to then see them all scramble and to hear the conversations being had. While I was happy to see this aspect of the show, I was totes sad to see Eric "WE OUT HERE" Bigger go home.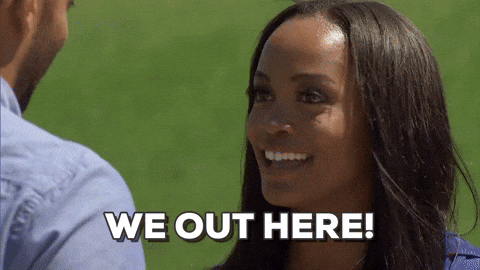 Finally you guys, I am SO here for all the couples that formed in the first week of the show. Even Ashley I. seemed to find a true connection after she took Bibiana's sloppy seconds. Can we talk Bibi for a second? First she lands Kevin, one of the hottest guys there. Then decides to give him to Ashley because Ashley is hysterically crying in the corner, only to have Bibi tame the New Zealand bad boy Jordan.

If you thought she was crazy or loud or anything negative in Arie's season, girl redeemed herself (even though she didn't need to) on the Winter Games and is KILLING IT!
I'm also really liking Dean and Lesley (Deanie Baby, please don't break her heart!), Josiah and Ally (redemption for Josiah this season!) & surprisingly Clare and Benoit/Christian (spoiler: I can't hate on Clare because something major is going to go down next week or on the reunion special, even though I REALLY want to hate on her for breaking sweet Benoit's heart!)
Again, I am SO here for these couples. Like, I am wanting a Raven/Adam love I can follow on social media for Jordiana, Desley, EVEN Ashlin!! (If I didn't ship their names correctly, someone please let me know asap!)
I am obsessed with this show and am PUMPED for next week. I had planned to cover all four episodes (sad it's only four episodes) in one post, but once I got started my love could not be contained, so lucky you, I'll be back at the end of the week to share my thoughts on the remainder of the show.
Find me on social media and let's discuss your thoughts … are you too loving this season? If so, what couples do you like? And if you aren't liking the show, to that I must say …

(I get that this is a Vanderpump gif, not a Bach gif,
… couldn't help myself!)
See you next week! Xoxo!