Taylor Swift's sixth studio album has been out almost a month and just became available to stream.
While I hadn't planned on reviewing it on the blog, the more I listen to it, the more I can't stop talking or thinking about it. So, "baby let the games begin…"
Perfect song to open the album. Perfect song to dance to while getting ready for a night out. This song just screams "Chapter 1" of something bigger to come (whether that's the rest of these songs or a fun night out you'll talk about for years), "…Ready For It?" just starts it (whatever it is) off right!
This. Is. My. Favorite. Song. On. The. Entire. Album! for so many reasons. I love that Future & Ed are on it; they have such an opposite sound which brings for two interesting voices into one song. Not only that but the song just makes. me. dance! It hits you like BANG!
I want to see Tay Tay perform this song with a marching band playing in the background; can't you see it during the chorus? This is a song I classify as a "banger" and keeps the momentum going after "End Game." Brilliant lyric moment: "They're burning all the witches even if you aren't one/so light me up!" #byehaters
This is probably my second favorite song on the album. Lyrically, I love it, especially the chorus because it's exactly how I feel about my husband. It also makes you want to just body roll, body roll, body roll all down the hall. Cut to about 3:05 into the song: TAYLOR'S VOICE IS COMPLETE FIRE!
One of my favorite lines from the whole album: "We can't make any promises now can we babe, but you can make me a drink."
While I am IN LOVE with this music video, "Look What You Made Me Do" is getting to feel like "Shake It Off." I'll listen to it if it's on, I'll sing to it, and it can get me to dance; however, it's been overplayed to the point that I'd rather listen to something else on the album first.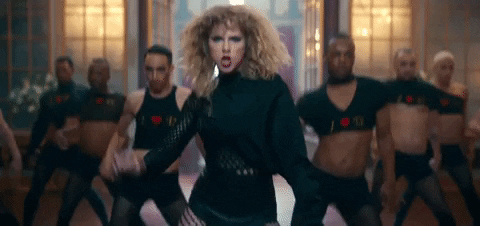 Honestly haven't listened to this song more than once due to the fact that I have so many other favorites … what are YOUR thoughts here?
First, royalty is on this track in the form of Blake Lively & Ryan Reynold's daughter at the beginning. I love Taylor's voice on this song; it's super fun to sing to.
I know this song is A LOT of people's favorite, however, not a favorite for me. I definitely don't hate it; it's just not one of my favorites.
I lump this song in with "So It Goes…" and "Getaway Car." I don't listen to it much because I love the others more; though I don't particularly hate it or love it. It will probably be one of those songs I'll discover months later and wonder why I didn't love it from the beginning. The beat is unique though and I really like where the song goes around 2:34.
Dancing With Our Hands Tied
Third favorite song to dance to after "End Game" and "I Did Something Bad." It proves that the album isn't even close to being over yet.
What does your mother say about these lyrics Taylor?
This Is Why We Can't Have Nice Things
There is SO much I love about this song: analyzing who it's about, the champagne and Gatsby references, the distinctive beat, the chanty chorus, her toast to her 'real' friends/her baby/her mama, and lastly, her scary cackle when discussing forgiveness.
Of all the early releases, this was my favorite. The "my baby's fit like a daydream/walking with his head down/I'm the one he's walking to" line is so catchy. Plus I appreciate her honesty regarding hiding away and the intensity of her relationship … call all of that what you want haters; the new Taylor tells us she could care less.
Anyone catch Swifty play this song acoustically during a Scandal episode? That is where I first fell in love with it. I am SO curious to know who this song is about; I'm sure there is some article somewhere with hard evidence of who it is (someone find that for me please). It's a perfect ending to the album; soft, light, feathery.
The MHH reviews are in! This is my favorite Taylor album of them all!
Each song is better than the previous. Each song is different, a jam, and fun to not only dance to but analyze. If I had to criticize something, it's the fact that I don't hear much of a "girl power" message. I hear a lot of how she's obsessed with her relationship, and was completely burned by people. Where is the message to tell all your fans who adore you to be strong, forget what others say about you, and stand on your own two feet without a man? She's a bit, "I got a boy, I got a boy, look at how great my boy is, oh, and people were mean to me."
Before I start getting all the TS hate mail, I'll be the first to admit that I 100% relate to the fact that I would put out the exact same message Taylor did with this album; I would write about nothing but how great the person I'm with is, and how horrible everyone else treated me. So as the song goes, I don't blame her.
I can't write an honest review without playing devil's advocate a bit, but real talk I FREAKING LOVE THIS ALBUM …maybe even more than Spencer Pratt …
And if not, I'm at least a close second.