So this was Lady Gaga last night…
Then there was me last night…
However I felt more like this …
Last night I heard an angel sing and watched a bad bitch dance her ass off; both entertained the hell out of my husband and I.
Lady Gaga sang all her hits, plus many songs off the Joanne album! She had four different stages and mini-bridges that would drop from the ceiling so she could get from the front of the arena to the near back. She sang EVERYTHING live and sounded AMAZING! She was honest and real and open, speaking about meaning behind her songs. At one point, when she was describing the song "Joanne" and discussing loved ones and lost, the girl next to me started crying. REAL EMOTION WAS SHED AT THIS SHOW FRIENDS! Oh my gosh, and the people watching … !!
However, I'm not here with this post to brag that I got to see Lady Gaga in concert and you didn't. (Maybe a little.) Mostly, I want to discuss her Netflix documentary Gaga: Five Foot Two, which I saved to watch until after we went to see her (hence why the doc has been out since September and I'm just now covering it).
Heeeeeeeeere we go (a-yo a-yo ..get it?)!
"All my insecurities are gone, I don't feel insecure about who am I as a woman. I'm not embarrassed or ashamed of what I have."
"…when they wanted me to be sexy or they wanted me to be pop I always put some fucking absurd spin on it that made me feel like I was still in control …"
"If I'm gonna be sexy at the VMAs singing about the paparazzi I'm gonna do it while cleaning the bathroom and reminding you of what fame did to Marilyn Monroe."
"I want to do the opposite of what everyone thinks I'm going to do …"
"Everyone thinks I'm going to come out there on a fucking throne in a meat dress with 90 shirtless men and unicorns. Am I right? And then at the end I'm gonna do something shocking that's gonna freak everybody out. But it's not even in the neighborhood of what we're gonna do."
"Honestly we've seen me fucking glamorous for 10 years; it's fucking boring."
"I never felt comfortable enough to sing or wear my hair back; I never felt pretty enough or smart enough or a good enough musician. That's the good part: I didn't feel good enough, and I do now. Of all the things I deserve, that's where I know I'm worth something."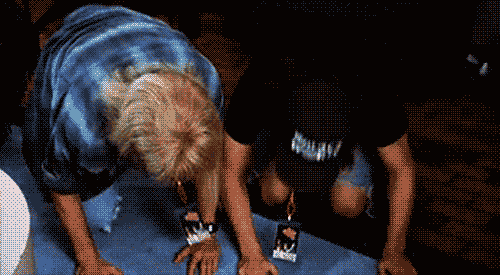 Joanne
Gaga's Joanne album is one of my all-time favorite records, not favorite Gaga, favorite of ALL time. I love every single song and had no idea a majority of this doc was a behind the scenes of the album's birth: like, did you know she is the one playing the piano on "A Million Reasons" (while she also drank white wine #mygirl!)? There are also scenes with her and Florence Welch singing their duet from the album (or when Flo teases Gaga about her millions of social media followers!), intimate scenes with her, her dad, and grandmother where she shares her inspiration for not only "Joanne" as a song, but the entire album. Of the album she said, "I'm going to fight like fucking hell for them to love this because it's fucking loveable!" OMG and the scene when she goes to Wal-Mart to purchase her own album …