I feel like there are two of me: the blogger, tv analyzer, celeb obsessed MHH and then just Katy. When discussing Justin Timberlake headlining the Super Bowl Halftime Show, it's hard to decide if MHH or Katy should comment. Let me give you a bit of background…
A few years ago I remember my brother-in-law asking me (after a few drinks & movie debates; he's good for that) who my "Top 5" were. I was all, "Is Top 5 a thing because I have no idea what you're talking about…" He was basically  asking who were my top 5 favorite celebrities: the celebrities that can do no wrong, who I would continue to love throughout the end of time.
How does one even start to compose such a list? I love so many actors, singers, and celebrities I could make a list a mile long. But with the Timberlake announcement, I thought I'd put my Hollywood Hangover hat on the shelf for this post and blog to you as just Katy today.
Here is my top 5:
1. Justin Timberlake — 62.5 million people can't be wrong…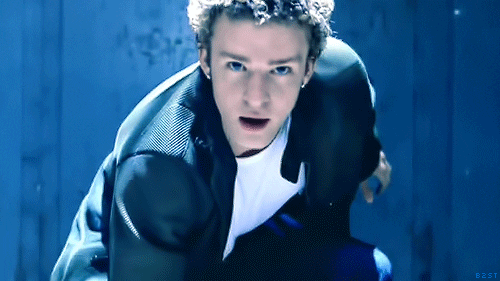 I first learned of Justin Timberlake when *NSYNC performed the Disney Concert back in 1998 (someone not as lazy as me please fact check that) and from then on never faltered on my love for the boy band and especially for JT. I saw them in concert twice, and saw him solo once. I will not speak forever about my fandom for him because it runs DEEP and I won't be blogging about his halftime performance either. Because, regardless of how it goes, I won't have a single negative word to type; this man can not do a single thing wrong in my eyes. (And if you want to debate the Janet scandal find me on social media @katylouw8).
2. Britney Spears –55.7 million Twitter followers

If JT is first on my list, then Queen B is obviously second. As much as I love Jessica Biel married to Timby, I was OBSESSED with these two as a couple. More so than that, I remember dancing around my bathroom with a hairbrush as a mic belting Britney at the top of my lungs. I remember watching every VMA performance thinking "Get it girl!" (minus 2007). I remember crying with her during the Diane Sawyer interview when her and Justin broke up. I remember feeling sick to my stomach when MTV had a breaking news special that she shaved her head &  I remember how proud I was of her during her Circus documentary when she commented on it.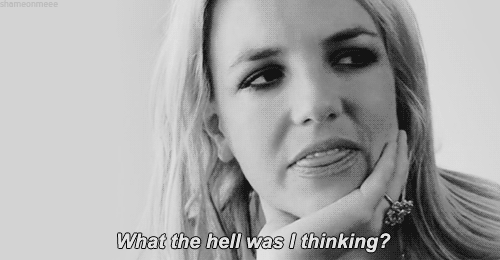 We cheer when celebs are up, we cheer even more when they are down, but we cheer the most when they have a successful comeback. I'm not sure any celebrity had a bigger comeback or turnaround than Ms. Spears. With a successful show in Vegas (which I saw three years ago and almost passed out from dancing so hard…), plus two beautiful sons, Britney is the goddess of the millennial generation.  (Also, who cares if she's awkward? You're not?)
3. Taylor Swift — 85.6 million Twitter followers

I know the old Taylor is dead and can't come to the phone right now, but my love started with the old Taylor. I don't care if you think she's nuts, annoying, immature, or whatever other criticism one can conjure up about Taylor Swift; I think she's great. Like JT and Britney, I've seen Taylor in concert and she seeps goodness out of her every pore. I think she genuinely cares about her fans and is going to "do her" no matter what anyone else thinks; that's really really really hard to do in the world today, even if you're not famous. Plus her music is so damn catchy and I just want to be her best friend. (She's also pretty good friends with Timberlake; you should realize now it all comes back to Timberlake).
4. Andy Cohen — 2.18 million Twitter followers

Okay HERE we go, my loyal followers; someone you probs love (and if you don't, then why are you following me? However, please don't unsubscribe, in fact, tell your friends!). I love Andy for blessing us with all the Housewife shows, as well as more Bravo hits including Watch What Happens Live. In a day and age of transparency, Andy is great on social media, plus super honest in his two books. He's been known multiple times to express his love for pop culture, which I relate to, but also love about him. I can't fully explain to you what it is I love so much about Andy, but if you're an Andy fan (Mariah Carey, Jennifer Lawrence, Jennifer Lopez, Cher, Oprah, Pink) then you get it. He's also a dog lover!
5. …..
My number five changes constantly. Currently it's Spencer Pratt because I live for his Snapchats every day. He also loves commenting on celebrities and being honest on social media and I'm here. for. it!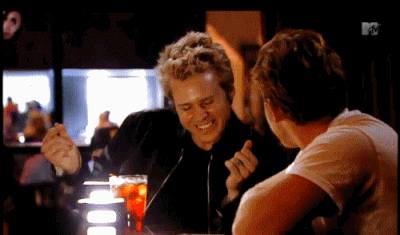 Other names that have been tossed around for the number five spot of all-time can do no wrong celebrities include Kate Middleton, Emma Stone, Jennifer Lawrence, and Lauren Conrad (which is totes surprising seeing as I just posted a GIF of Spencer Pratt — never thought I'd see the day, seriously that's how good his content is!).
  
Final thoughts….
Please do not unfollow, unsubscribe, or hate me if you don't like my Top 5. Also, don't come and argue with me about them either because it won't change my mind. Remember, if you don't agree with my Top 5 that's fine. Because, I think that first time my brother-in-law brought up this "Top 5" debate, it was to make me think:  as a fan of someone, what is so special about him or her that you simply won't debate it? Is it because you share that fandom with someone special? Is it because that celeb reminds you of your childhood? What doesn't make you falter on your loyalty?
As mentioned, my thoughts on these people won't change. However, I won't force them down your throat either. Putting back on the Hollywood Hangover blogging hat, I'm open to hearing suggestions and opinions on all things celeb, good or bad. So I now ask you…who makes it onto your Top 5 favorite fame list?